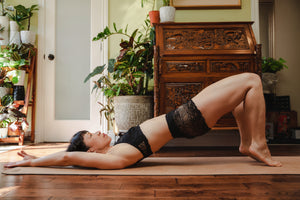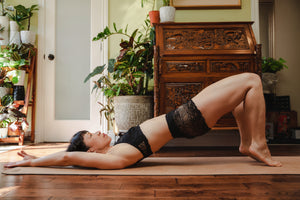 Janette Yee on Motherhood, Being an Athlete, and Postpartum Recovery
EXPERT ADVICE FROM PERINATAL THERAPIST, JANETTE YEE
Whether Janette is on the track, training, or sharing her C-section and postnatal recovery expertise on her next IGTV reel, as a perinatal Therapist she is focused on helping mothers postpartum and as an athlete guiding fellow athletes on balancing athleticism and motherhood through informed C-section recovery. 
With over 19 years of experience in athletic and massage therapy, Janette's work as a perinatal Therapist is dedicated to bridging the gaps in healthcare to take a woman safely from conception to childbirth and returning to safe exercise. Although Janette has had two vaginal births of her own, she is extremely passionate about C-section recovery.
Join us as we sit down for this inspiring conversation with Janette about healing, creating a village, and maintaining your identity in motherhood.
I started leaking, I was running around that track at a very high pace, faster than I've ever done before since having kids and I started to pee myself at 4 years postpartum for the first time.
So, when we talk about that healthcare gap, focusing on supporting women going back into sports, that's what I'm talking about.
For women who want to get back into higher-level sports, or sports in general, there are still going to be postpartum implications.
If their strength and recovery aren't taking that one step further, she is going to be discouraged, and their confidence is going to drop, her self-esteem is going to be butchered and then the negative effects of that is, "I'm not an athlete anymore, I should just stick to being happy pain-free, active with my kids." That's not good enough.
DID YOU KNOW
Serena Williams is one of a handful of professional female athletes who have intimately shared their childbirth experiences. After being rushed into an emergency C-section, Serena experienced serious shortness of breath and had a pulmonary embolism.
This caused severe coughing which re-opened the C-section incision sending Serena back into surgery where doctors found a large hematoma and swelling of clotted blood and she spent the first 6 weeks of motherhood bedridden. Professional and high-intensity athletes can face a different kind of recovery than most moms.
Due to the relaxin hormone being released during pregnancy- mainly to help loosen the pelvis for birth, this hormone also increases a woman's flexibility but can create issues with muscle capacity.
AS AN ACTIVE RUGBY PLAYER FOR OVER 15 YEARS CAN YO SHARE WITH US WHAT YOUR JOURNEY WITH YOUR BODY IMAGE IS AND HOW/ IF IT'S CHANGED POSTPARTUM?
Honestly, I think as a female athlete I lucked out falling in love with a sport like a rugby.
Rugby is a unique women's sport in the sense that it is possibly one of the most inclusive sports I've ever had the opportunity to play or be a part of as a Therapist, a spectator, or an athlete.
It welcomes all shapes, sizes, races, genders, and sexual orientations, abilities, body shapes, and [even though] I was the skinny, small, fast girl it didn't matter, it was so welcoming.
That was celebrated in the world of rugby performance. That was a really refreshing way to measure success. 
Now what's interesting is that in postpartum, I can say that I don't really think I ever had body image issues as an athlete.
Again, that was a big part of the sport I was so closely involved with- however, my body image became a massive part of my focus after pregnancy. I know that played a lot into my postpartum depression.
BREAST SIZE AND SHAPE IS A COMMON TOPIC WITH BOTH POSTPARTUM AND ATHLETICISM, CAN YOU EXPAND ON YOUR RELATIONSHIP WITH THEM, DID IT CHANGE AFTER CHILDREN, AND IF SO HOW DID THAT IMPACT YOUR SELF-ESTEEM?
Here's what's interesting- I've always loved my breasts, I've always been an A cup at the very most and it's always been playing rugby, a point of self-acceptance with self-deprecation and everybody just celebrating every kind of body shape and size.
I always claimed my small chestedness as my strength and I loved it and I celebrated it.
It was very much a part of me and my breasts always were a happy part of me- I never minded it, it was a great thing. It allowed me to run- unlike my other teammates who needed to wear  2 bras so it wouldn't be hurtful while sprinting down the field and getting tackled. I don't have that problem, I don't have any breasts. 
I think what really just erased any kind of self-judgment or shame or anything like that about my postpartum breasts was when my little girl, she was maybe 3 at the time, saw my breasts and my nipples and my nipples had gotten very dark and very big when I was nursing my son. She laughed out loud and pointed at my breasts she went "Mommy, your nipples look like tiny meatballs'' and it was so pure and I looked down and they did look like tiny meatballs and that was just great, it was perfect and anything that I doubted about my body was just erased then and there.
So I and my small breasts and tiny meatballs are now beautifully and sexily adorned with my Mayana Genevière bras which are handmade and just gorgeous. So, to a certain extent, I thought these meatballs would never look sexy, but that's just not true. 
My breast and my body are sexy in different ways and I embrace them wholeheartedly now at age 44.
AS SOMEONE WHO OWNS MAYANA GENEVIÈRE PIECES, DO YOU THINK IT'S IMPORTANT TO INVEST IN FUNCTIONAL AND BEAUTIFUL UNDERGARMENTS ESPECIALLY AS SOMEONE WHO WEARS ATHLETIC CLOTHING DAILY?
For me, yes. Because I appreciate the beauty and the sexiness of black lace, of beautiful, delicate handmade pieces that are full of artistry and thought.
Everything that clothing used to be before clothing became mass-produced over the past 100 years, I think there is something just so gorgeous about owning a timeless piece.
Certainly, that is a mindset thing. Did I always care about beautiful lingerie?
Yes, but I didn't care so much about the longevity of beautiful pieces because we are all a part of the fast-fashion culture and we are brought up in our teens and 20s and even our 30s to think that way.
Now in my wisdom being a 40-year-old, ya absolutely, I think it is something that I definitely value if I do purchase more beautiful pieces I would be considering MG pieces going forward.
And as an athlete, you are right, I'm not going to be wearing a gorgeous lace bra to track practice, but I've said this a million times before, I'd be the last person to purchase lace underwear.
Because you work out, you sweat and you're wearing sweaty underwear and sweaty yoga pants and you get acne on your butt and lace is the last type of material you would want to put on your butt- you're just gonna get more acne.
That wasn't even the case, I was so relieved and surprised, a feeling of yes I can wear gorgeous things and not have to suffer.
Honestly, I have been singing from the rooftops the highest praise of this black lace gorgeous underwear that is comfortable and sexy and sustainable and all those wonderful things. Ya, I will be wearing these pieces for the rest of my life. 
Within 2 weeks you should see significant improvement in your scar's recovery. Janette suggests that at the 6-week mark you can begin doing scar massages to help both your scar and fascia tissue on the road to recovery. Check out her website for a plethora of free resources to guide you through an effective massage routine.
In addition, Janette recommends wearing underwear that is high-waisted to support incision healing. High-waisted underwear with compression can reduce pain and swelling by keeping your incision feeling snug and protected.  Mayana Genevière carries high-waisted bottoms with organic cotton gussets including the Boyshort in Janette's look, check out this collection of bottoms to support your recovery.
WHAT IS NEXT FOR YOU? WHAT WOULD YOU LIKE OUR AUDIENCE TO KNOW?

As the founder of The "Proactivemoms Method", an exercise and rehabilitation program designed with athletes, I want women to stay connected and empowered to their healing. For anyone who can use a supportive coach cheering you on, you can check out more of what I do here.

HOW CAN PEOPLE STAY CONNECTED WITH YOUR JOURNEY?

You can find me on Instagram @askjanette where I hold weekly IGTV Q+As or over on TikTok where I teach women different exercises that promote a healthy C-section recovery.
A special thank you to Osato Erebor for capturing Janette so beautifully in her element.
VIDEO INTERVIEW: CHECK OUT JANETTE'S MOTIVATIONAL INTERVIEW ON C-SECTION RECOVERY, ATHLETICISM & MOTHERHOOD
Shop Janette's look
Lorenna Bra & Lenea Control Lace Boyshort
Janette's Bra was customized in a 32A and she is wearing a Small in the Lenea High Waist Control Boyshort with Tummy panel healing.