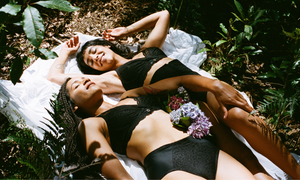 You're invited to the Grand Opening Sunday June 26th 12pm-6pm!
100-130 cawthra ave toronto on m6n3c2
You are invited!
The MG Team is excited to open our doors after being closed to the public for over 2+ years and we want to celebrate with you!
Join us for the Grand Opening of our transformed space from a manufacturing facility to an atelier. Experience our newly reonvated fitting room, shop your favourite collections in person, see where your garments are made, and enjoy the celebration with locally made businesses on the street!
After being virtual we are looking forward to meeting you and appreciating you and all your support over the years. Join us for an exciting afternoon of cocktails, coffee, cookies, delicious street food, live music, and shopping!

VIPS (that's you) who pre-register for the event,  get 10% off your Mayana Genevière purchase on the day AND a free gift for coming to celebrate with us.


Experience Personal Shopping
Get recommendations based on your needs plus learn about to style and care for your garments.
RSVP Now
Take a Peak at Production
Learn about what goes into the production process and meet the makers behind your garments.
RSVP Now
Get Fitted
For garments that compliment your shape, stage, and size for immediate confidence.
Note: Masks are required for fittings.
RSVP Now
Most of our bralette, panties, and bodysuit sizes will be available for you to try on. Lorenna bras, Chemises, and select styles will be made to order.
Yes! Part of our customer appreciation event will include the option to shop! We will have core sizes stocked and available for purchase. If we don't have your garment available, we will make and deliver at no cost to you. Sign up for your VIP perks if you are planning your purchase.
Wearing a mask in our space is optional however for precaution due to proximity when performing a fitting we require masks to be worn during that process. Any measuring tapes and surfaces will be disinfected between fittings.
Buy Online and Pickup in Store - Choose this option at checkout and we'll bring your order out to you.
In Store Personal Shopping - Book a in-store appointment with a Personal Shopper.
Yes! We are located in the Junction near the Stockyards. 100-130 Cawthra Ave Toronto ON M6n3C2.
Parking is available and is FREE! Check out our amazing neighbours as they open their doors in celebration too! Learn more here.
Meet Your Hosts
Nadine
Nadine our Founder and Visionary is here to serve you as our Chief Support Officer
Faduma
Faduma is at the heart of connecting with you through personal consults and communications.
Carmiña
Carmina brings your pieces to life with skilled quality and handling as our head seamstress.
Sean
Sean makes your online experience with us magical! He handles all things digital.
Angela
All of our strategy and planning to bring you new and beautiful things is thanks to Angela.
Iggy
Meet MG's Mascot! He'll be welcoming everyone from a distance.
june 26, 12pm-6pm
Come to the Grand Opening
100-130 Cawthra Ave M6N3C2
Toronto, Canada
Cawthra Road is Toronto's best-kept secret, but not any longer! This block party/marketplace-style features some of the best local Canadian brands, made right in the heart of the junction.
RSVP NOW