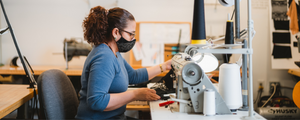 Ethically Made in Toronto
Welcome to BTS of our Slow Fashion Brand
Slow fashion is our approach to making garments that prioritize your care, the wellbeing of the people who make your garments, and minimizes our impact on the environment.
Big brands produce collections with sustainable materials, but if they're promoting overconsumption and are not mindful of the people who produce it, Is that really sustainable?
We emphasize quality and durability throughout our sourcing and production to make beautiful, timeless investment pieces you'll love living in.
EACH GARMENT IS MADE in small batches or made-TO-ORDER BY WOMEN WHO ARE PAID FAIR WORKING WAGES.
As a Canadian brand, producing locally was a decision made at brand inception
We focus on the the physical and emotional needs of women at every life stage and create timeless products based on those needs. In Canada working conditions and environmental practices are regulated and standardized. With our Ontario Made Manufacturer approval we are prioritizing the promotion of locally-made garments.
Certified Ontario Made Manufacturer
As a recognized Ontario Made Manufacturer, we are prioritizing the promotion of locally-made garments
We create evergreen pieces that transcend trends so that you can feel supported, comfortable, and beautiful at any stage.
Meet The People Behind Your Undergarments
We make undergarments you'll love living in that fits your body and not the other way around. Made exclusively for you with love.
meet our head sewer
Carmina
Carmina has been with us for 5+ years and has touched every single garment!
Faduma A.
If you sent us a message, chances are you've spoken to Faduma who is the heart of our communication with you.
Reach out to her at Customercare@mayanageneviere.com
Sean
Sean makes your online experience with us magical! He handles all things digital.
Angela Z.
All of our strategy and planning to bring you new and beautiful things is thanks to Angela.